---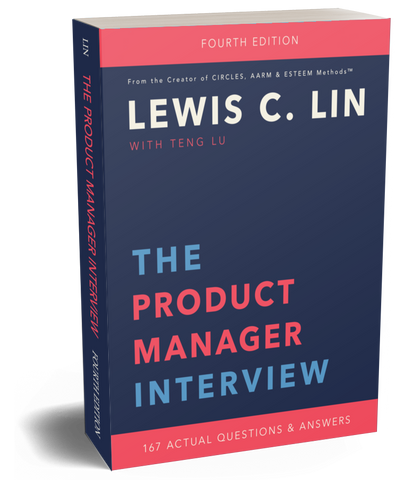 The Product Manager Interview (4th Edition)
---
THIS IS AN E-BOOK, AVAILABLE FOR DOWNLOAD.
Introduction to the 4th Edition  
From the creator of the CIRCLES, AARM & ESTEEM Methods™, The Product Manager Interview, 4th Ed. gives readers 167 practice questions to improve product management (PM) skills and master the interview. Authored by the world's expert in PM interviews, Lewis C. Lin, the book is ideal for PM roles including:
Google
Facebook
Amazon
Uber
Dropbox
Microsoft
Fully Solved Solutions
The book has fully solved solutions so readers can learn, improve and do their best at the PM interview. Here are some questions and sample answers you'll find in the book:
Product Design
Imagine you are the Facebook newsfeed PM. In your research, you have found that users crave validation. That is, when Facebook users write a new post or perhaps share a photo or video, they want someone to click Facebook's "like" button. They feel empty when their friends do not "like" it. How would you solve this?
Brainstorm some app ideas using a mood API. A mood API is an API that has sensors that can learn about your mood.
Analytics
Estimate how much it costs to run Gmail per user, per year.
How much storage space do you need for Google Maps?
Estimate Facebook's ad revenue.
Metrics
What are the top metrics you would track for a two-sided marketplace?
There was an 8% drop in hits to google.com. Larry Page walks into your office. He asks you to think and list what the reasons might be.
Hypothetical
How do you define or create a product roadmap?
Problem Solving
How would you approach Amazon's challenge of overstocked books?
Rated as the Best PM Interview Expert by Top Universities
Lewis's half- and full-day interview workshops are highly sought after. Here's what students and staff say about the speaker:
DUKE UNIVERSITY
I was so touched by your presentation this morning. It was really helpful.
UNIVERSITY OF MICHIGAN
I can say your class is the best that I have ever attended. I will definitely use knowledge I learned today for future interviews.
COLUMBIA UNIVERSITY
I'd like to let you know that your workshop today is super awesome! It's the best workshop I have been to since I came to Columbia Business School. Thank you very much for the tips, frameworks, and the very clear and well-structured instruction!
UNIVERSITY OF CALIFORNIA, IRVINE
Today's workshop was amazing! The best part is to attend the author's workshop and to meet him in person. It makes my future preparation and reading more interesting. I now have a clearer picture, visualizing concepts described in the book and connecting the dots better!"
UNIVERSITY OF TEXAS AT AUSTIN
I wanted to reiterate how much I enjoyed your workshops today. Thank you so much for taking time out and teaching us about these much-needed principles and frameworks. I actually plan to print out a few slides and paste them on my walls!
CARNEGIE MELLON UNIVERSITY
Thanks a lot for sparing some time to meet us. The session was very informative and eye-opening. I'm also a very big admirer of your work. We, at Tepper, follow your books like the Bible. As a former associate product manager, I was able to connect your concepts back to my work experience back and Pragmatic Marketing training. I'm really looking forward to apply your teachings.
Pages
304 pages
Electronic Book Format
PDF (Viewable using the free Adobe PDF Reader)
Refund Policy
Please confirm all purchases before you complete them as all sales are final. There are no refunds for digital content.
About the Author
Lewis is the best selling author of several interview preparation books including Decode and Conquer: Answers to Product Management Interviews.
Serving clients since 2008, Lewis has helped clients around the world secure jobs at some of the most prestigious companies, including Google, Amazon, and Microsoft.  Lewis has been featured in international press including CNN, ABC, CBS, The New Yorker, and The Atlantic.
Lewis has over 13 years of high-tech experience. Most recently, he was the Director of Product Management at Microsoft. Prior to Microsoft, Lewis worked at Google, where he was responsible for launching new AdWords products.
---
More from this collection