---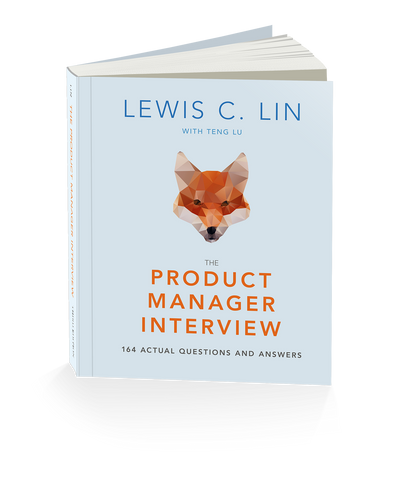 The Product Manager Interview (Third Edition)
---
THIRD EDITION IS NO LONGER AVAILABLE.
From the best-selling author of Decode and Conquer and the creator of the CIRCLES Method™, The Product Manager Interview provides 164 practice questions to master the product management (PM) interview.
Fully Solved Solutions
The book has fully solved solutions so readers can learn, improve and do their best at the PM interview. Here are some questions and sample answers you'll find in the book:
Product Design
Imagine you are the Facebook newsfeed PM. In your research, you have found that users crave validation. That is, when Facebook users write a new post or perhaps share a photo or video, they want someone to click Facebook's "like" button. They feel empty when their friends do not "like" it. How would you solve this?
Brainstorm some app ideas using a mood API. A mood API is an API that has sensors that can learn about your mood.
Analytics
Estimate how much it costs to run Gmail per user, per year.
How much storage space do you need for Google Maps?
Estimate Facebook's ad revenue.
Metrics
What are the top metrics you would track for a two-sided marketplace?
There was an 8% drop in hits to google.com. Larry Page walks into your office. He asks you to think and list what the reasons might be.
Hypothetical
How do you define or create a product roadmap?
Problem Solving
How would you approach Amazon's challenge of overstocked books?
Pages
300 pages
Electronic Book Format
PDF (Viewable using the free Adobe PDF Reader)
Publish Date
November 6, 2017 
Previous Editions
This is the new edition of the book that was previously known as PM Interview Questions.
Refund Policy
Please confirm all purchases before you complete them as all sales are final. There are no refunds for digital content.
About the Author
Lewis is the best selling author of several interview preparation books including Decode and Conquer: Answers to Product Management Interviews.
Serving clients since 2008, Lewis has helped clients around the world secure jobs at some of the most prestigious companies, including Google, Amazon, and Microsoft.  Lewis has been featured in international press including CNN, ABC, CBS, The New Yorker, and The Atlantic.
Lewis has over 13 years of high-tech experience. Most recently, he was the Director of Product Management at Microsoft. Prior to Microsoft, Lewis worked at Google, where he was responsible for launching new AdWords products.
---
More from this collection