---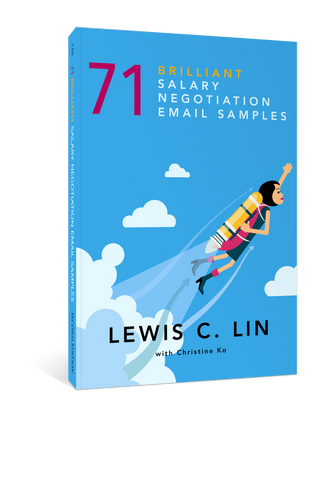 71 Brilliant Salary Negotiation Email Samples (Second Edition)
---
THIS IS THE E-BOOK VERSION, AVAILABLE FOR IMMEDIATE DOWNLOAD.
Pages
276 pages
Electronic Book Format
PDF (Viewable using the free Adobe PDF Reader)
Publish Date
November 8, 2017
Praise for 71 Brilliant Salary Negotiation Email Samples
"Salary negotiation is important whether you're new or a veteran to the job market. Lewis' book boils down the theory and gives you practical cases to conduct successful salary negotiations immediately."
-- Vele Samak, Minister for Foreign Investments at Republic of Macedonia

"Knowing negotiation theory is one thing, but applying it is another. Five Minutes to a Higher Salary makes it easy to apply tested negotiation principles through practical guidance and sample scripts." 
-- Matt Klainer, Director of Android Global Partnerships, Google

"This is a go-to-resource for job seekers. Coupled with a direct approach and useful tools, Five Minutes to a Higher Salary addresses the questions and anxieties job seekers have when it comes to a job offer."
-- Roxanne Hori, Associate Dean at NYU Stern School of Business

"Lewis makes a big promise -- Five Minutes to a Higher Salary -- and he delivers. If you want to make money, get this book for your next salary negotiation."
-- Jason W. Womack, Author of Your Best Just Got Better

"Five Minutes to a Higher Salary is a laser-focused and pragmatic salary negotiation book. Whether you are a C-level executive or a graduating student, you need to read this book before your next salary negotiation. There is no question that this book will quickly and unambiguously improve how you conduct and represent your negotiation with your employer." 
-- William Rhys Dekle, Senior Director of Business Development, Microsoft Game Studios

Refund Policy
Please confirm all purchases before you complete them as all sales are final. There are no refunds for digital content.
About the Author
LEWIS C. LIN received his formal negotiation training at Northwestern University's Kellogg School of Management.
CNN named Lewis one of the "top 10 job tweeters you should be following." He has also been featured on FOX, ABC News, San Francisco Chronicle, The Atlantic, The Telegraph, and Business Insider.
Lewis also holds a bachelor's degree from Stanford University. Raised in Southern California, he now lives in Seattle, Washington. For more, visit his website at lewis-lin.com.