---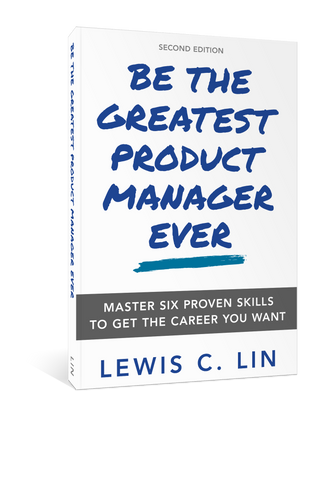 Be the Greatest Product Manager Ever (Second Edition)
---
THIS IS THE E-BOOK VERSION, AVAILABLE FOR IMMEDIATE DOWNLOAD.
Get the product management (PM) career you deserve. In his new book, Be the Greatest Product Manager Ever, Lewis C. Lin reveals what you need to do to get there.
This book builds on Lewis' extensive product management expertise, which includes five best-selling product management books on Amazon.com. He shares wisdom, secrets, and tactics you need to execute to move up the PM career ladder including:
How to Start Every New Job
How to Figure Out What to Do
How Stuff Gets Done: System 1 and 2
How to Sound Authoritative Like a Professor
How to Establish Your Value
How to Get Others to Do What You Want
How to Survive (or Play) Office Politics
The One Interview Question You Need to Ask
Explain Why Your New Direct Reports Will Struggle
How to SCAMPER Your Way to a Moonshot Vision
Why the Best Visionaries Get into Technical Details
Most anticipated is the introduction of Lewis' newest framework: the ESTEEM Method™. ESTEEM™ is a framework of six core skills that will help master the goal of moving up the PM ladder. It's a memory aid and step-by-step guide on how to get to the top.
Career opportunities are precious. Don't miss your chance. Let Lewis and his expertise show the way.
Pages
161 pages
Electronic Book Format
PDF (Viewable using the free Adobe PDF Reader)
Publish Date
April 24, 2019
Refund Policy
Please confirm all purchases before you complete them as all sales are final. There are no refunds for digital content.
About the Author
Lewis is the best selling author of several interview preparation books, including Decode and Conquer: Answers to Product Management Interviews.
Serving clients since 2008, Lewis has helped clients around the world secure jobs at some of the most prestigious companies, including Google, Amazon, and Microsoft.  Lewis has been featured in international press including CNN, ABC, CBS, The New Yorker, and The Atlantic.
Lewis has over 13 years of high-tech experience. Most recently, he was the Director of Product Management at Microsoft. Prior to Microsoft, Lewis worked at Google, where he was responsible for launching new AdWords products.