---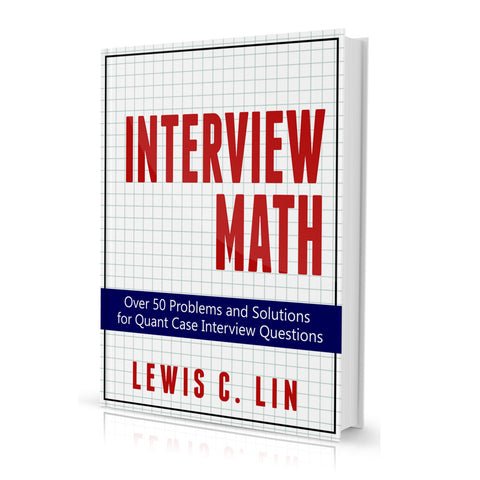 Interview Math (First Edition, PDF Version)
---
FIRST EDITION IS NO LONGER AVAILABLE.
Interview Math provides over 50 practice problems and answers to help job seekers master quantitative interview questions including:
Market Sizing
Revenue Estimates
Profitability
Breakeven
Pricing
Customer Lifetime Value
If you're interviewing at one of the highly sought after positions below, you'll need to master these case interview math questions:
Management Consulting: McKinsey, Bain, Boston Consulting Group, Deloitte
General Management: Capital One, Taser
Marketing: General Mills, Google, Hershey
Software Engineering: Goldman Sachs, Microsoft
Finance: American Airlines, Best Buy, JetBlue
You'll learn interview math concept and principles — and then master those concepts with over 50 practice questions filled with detailed answers.
After going through the book, candidates will feel knowledgeable, confident, relaxed and ready to tackle case interview math questions.
Pages
164 pages
Publish Date
January 12, 2015
Refund Policy
Please confirm all purchases before you complete them as all sales are final. There are no refunds for digital content.
About the Author
Lewis is the founder of Impact Interview, an interview coaching firm.  Serving clients since 2008, Lewis has helped clients around the world secure jobs at some of the most prestigious companies, including Google, Amazon, and Microsoft.  Lewis has been featured in international press including CNN, ABC, CBS, The New Yorker, and The Atlantic.
Lewis has over 13 years of high-tech experience. Most recently, he was the Director of Product Management at Microsoft. Prior to Microsoft, Lewis worked at Google, where he was responsible for launching new AdWords products.
Lewis is also a published author. His first book, Decode and Conquer, is in the top 1% of all books sold on Amazon.com.