---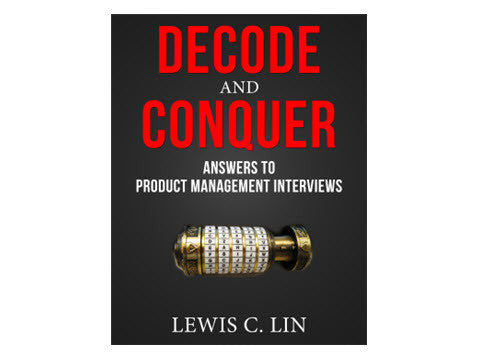 Decode and Conquer (First Edition)
---
FIRST EDITION NO LONGER AVAILABLE.
In Decode and Conquer, the author gives an industry insider's perspective on how to conquer the most challenging, frightening product management (PM) interviews. The first book focused exclusively on PM interview preparation, Decode and Conquer will reveal:
Frameworks for tackling product design and metrics questions, including the CIRCLES Method™ and AARM Method™
Biggest mistakes PM candidates make at the interview
Decode what interviewers are looking for, why they're looking for it, and how to deliver it
Answers to the Most Important Product Management Interview Questions
Look Inside the Book
Table of Contents
First 8 Pages
Pages
179 pages
Publish Date
November 13, 2013
Praise for the Author

"Getting the interview is one thing, but convincing the hiring manager to give you an offer is another. In
Decode and Conquer
, Lin uses compelling real-world questions and answers to demonstrate how you can be effective in your interview."
- Bruce Jaffe, Former Corporate Vice President, Microsoft

"Decode and Conquer is a fascinating book about how to succeed in product management interviews, especially case questions. It's essential reading for anyone trying to succeed in a competitive product management job market." - Sandi Lin, Former Amazon Bar Raiser and Senior Manager, Product Management


"There are plenty of books focused on interviewing, but Decode and Conquer is the first one that focuses on product management interviews. It's a unique, indispensable find that deserves to be on the bookshelf on every product management professional." 
- Ingrid Stabb, Senior Director, Oracle


"Decode and Conquer demystifies the product management case interview. It walks you through step by step how to give great answers to hard questions." - Tim Tow, Sr. Business Manager, Microsoft
"I am really impressed by this book. Very well organized. Will get me ready for my Google interview next Thursday." - Current Google PM candidate
"I feel really good about the processes and frameworks introduced in this book. I also like the sample answers. It helps me compare how different my own answers are from the model answers." - Current Amazon PM candidate
Refund Policy
Please confirm all purchases before you complete them as all sales are final. There are no refunds for digital content.
About the Author
Lewis is the founder of Impact Interview, an interview coaching firm.  Serving clients since 2008, Lewis has helped clients around the world secure jobs at some of the most prestigious companies, including Google, Amazon, and Microsoft.  Lewis has been featured in international press including CNN, ABC, CBS, The New Yorker, and The Atlantic.
Lewis has over 13 years of high-tech experience. Most recently, he was the Director of Product Management at Microsoft. Prior to Microsoft, Lewis worked at Google, where he was responsible for launching new AdWords products.