---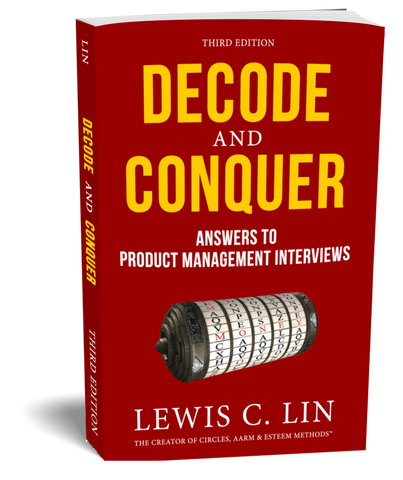 Decode and Conquer (Third Edition)
---
THIS IS THE E-BOOK VERSION, AVAILABLE FOR IMMEDIATE DOWNLOAD.
Introduction to the Third Edition
Lewis C. Lin — the world's #1 expert on product management (PM) interviews — has updated Decode and Conquer in an all-new third edition. Decode and Conquer is your starting point on how to conquer the most difficult PM interview questions. Here's what to expect in the book:
Frameworks for tackling product design and metrics questions, including the CIRCLES Method™, AARM Method™ and DIGS Method™
Biggest mistakes PM candidates make at the interview
Decode what interviewers are looking for, why they're looking for it, and how to deliver it
Answers to the most important PM interview questions
Expanded Section on Metrics & Execution
The 3rd edition has an expanded section on metrics & execution questions. Empower yourself with the latest thinking, frameworks and tips on answering these types of questions.
Questions and answers covered in the book
Design a new iPad app for Google Spreadsheet.
Brainstorm as many algorithms as possible for recommending Twitter followers.
You're the CEO of the Yellow Cab taxi service. How do you respond to Uber?
You're part of the Google Search web spam team. How would you detect duplicate websites?
Endorsed by Google recruiters. Praised by Business Insider.
Decode and Conquer's methods, especially CIRCLES™, has been endorsed by recruiters and top publications such as Business Insider. Top product management executives, including those from Google, Amazon, and Microsoft, recommend Decode and Conquer to PM job seekers.
Here's what readers say
You've helped many people in more ways than you know. I wish to do that someday in my own way.
Just wanted to share my gratitude for your work! Bought Decode & Conquer and enjoying every page. :)
I am a Zimbabwean who has been living in China for the last 8 years. No direct PM experience but your 2-week PM guide has been incredibly useful. I have also been reading Decode and Conquer which has gotten me up to speed really fast. Brilliant book!
Pages
199 pages
Electronic Book Format
PDF (Viewable using the free Adobe PDF Reader)
Additional Praise for Decode and Conquer

"Getting the interview is one thing, but convincing the hiring manager to give you an offer is another. In Decode and Conquer, Lin uses compelling real-world questions and answers to demonstrate how you can be effective in your interview."
- Bruce Jaffe, Former Corporate Vice President, Microsoft

Decode and Conquer is a fascinating book about how to succeed in product management interviews, especially case questions. It's essential reading for anyone trying to succeed in a competitive product management job market."
- Sandi Lin, Former Amazon Bar Raiser and Senior Manager, Product Management

"There are plenty of books focused on interviewing, but Decode and Conquer is the first one that focuses on product management interviews. It's a unique, indispensable find that deserves to be on the bookshelf on every product management professional."
- Ingrid Stabb, Senior Director, Oracle

"Decode and Conquer is not only a must-have for people wanting to get into product management, but also for hiring managers who want to identify the best product management candidates through better interviewing."
- Rodrigo Vaca, Vice President, Zoho

"Decode and Conquer demystifies the product management case interview. It walks you through step by step how to give great answers to hard questions." 
- Tim Tow, Senior Manager, Microsoft

"I thought only consultants had it hard with case interviews! But product managers need to be just as well prepared. I will never think about product management interview quite the same. This is a must-have for any product management candidate."
- Joshua Waldman, Author of Job Searching with Social Media For Dummies

"I feel really good about the processes and frameworks introduced in this book. I also like the sample answers. It helps me compare how different my own answers are from the model answers."
- Current Google PM candidate

Refund Policy
Please confirm all purchases before you complete them as all sales are final. There are no refunds for digital content.
About the Author
Lewis is the founder of Impact Interview, an interview coaching firm.  Serving clients since 2008, Lewis has helped clients around the world secure jobs at some of the most prestigious companies, including Google, Amazon, and Microsoft.  Lewis has been featured in international press including CNN, ABC, CBS, The New Yorker, and The Atlantic.
Lewis has over 13 years of high-tech experience. Most recently, he was the Director of Product Management at Microsoft. Prior to Microsoft, Lewis worked at Google, where he was responsible for launching new AdWords products.
Search templates (CTRL+Space)
Search templates (CTRL+Space)
---
More from this collection