---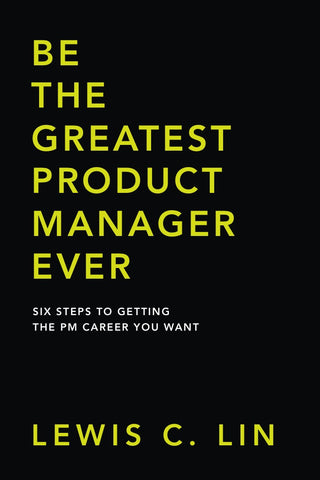 Be the Greatest Product Manager Ever (First Edition)
---
FIRST EDITION IS NO LONGER AVAILABLE.
Are you a product manager who can't seem to get promoted? Aspire to be a product management executive, but can't break through the ceiling? Getting conflicting advice on what to do next in your career?
Noted expert and Amazon.com best seller of five product management books, Lewis C. Lin reveals in Be the Greatest Product Manager Ever what you need to do to get the career you deserve. The book goes beyond just giving examples of talented product managers. He shares secrets and tactics you need to implement to move up in your career.
Pages
17 pages
Publish Date
May 5, 2018
Refund Policy
Please confirm all purchases before you complete them as all sales are final. There are no refunds for digital content.
About the Author
Lewis is the best selling author of several interview preparation books, including Decode and Conquer: Answers to Product Management Interviews.
Serving clients since 2008, Lewis has helped clients around the world secure jobs at some of the most prestigious companies, including Google, Amazon, and Microsoft.  Lewis has been featured in international press including CNN, ABC, CBS, The New Yorker, and The Atlantic.
Lewis has over 13 years of high-tech experience. Most recently, he was the Director of Product Management at Microsoft. Prior to Microsoft, Lewis worked at Google, where he was responsible for launching new AdWords products.