---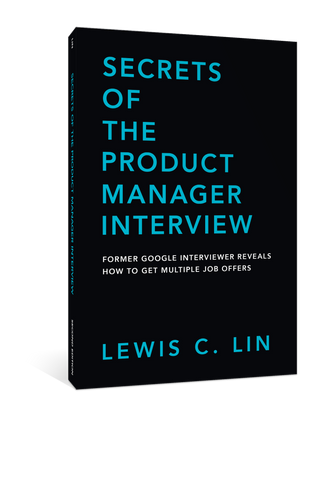 Secrets of the Product Manager Interview (Second Edition)
---
THIS IS AN E-BOOK, AVAILABLE FOR IMMEDIATE DOWNLOAD.
Have a product manager interview? Maybe Google, Facebook, Amazon, or Uber? 
Discover the secret to getting multiple job offers with the world's #1 expert on product management interviews: Lewis C. Lin.
Secrets of the Product Manager Interview answers all the questions from the author's readers, coaching clients, and workshop attendees from the last 10 years. In this book, the author extracts the essence and reveals those secrets with you.
Here's what you'll uncover in this book
What to expect at Google, Facebook, Uber & Amazon interviews
How to get your first product manager job
The most efficient way to prepare
What are the biggest interview mistakes and how to avoid them
How to really impress the interviewers
A Google insider's take on how to interpret interviewer feedback
Which companies are the best for product managers who want to make it to the top
The latest advice on how to deal with the dreaded take-home assignments
Pages
205 pages
Publish Date
February 16, 2017
Refund Policy
Please confirm all purchases before you complete them as all sales are final. There are no refunds for digital content.
About the Author

Lewis C. Lin, a former Google and Microsoft executive, has trained thousands of candidates to get ready for tech interviews, using his proven interview techniques. Lewis' students have received offers from the most coveted firms including Google, Facebook, Uber, Amazon, Microsoft, IBM, Dell and HP.
Lewis has a bachelor's in computer science from Stanford University and an MBA from Northwestern University's Kellogg School of Management.
He's the author of several bestsellers including Interview Math, The Product Manager Interview as well as Decode and Conquer.
---
More from this collection