---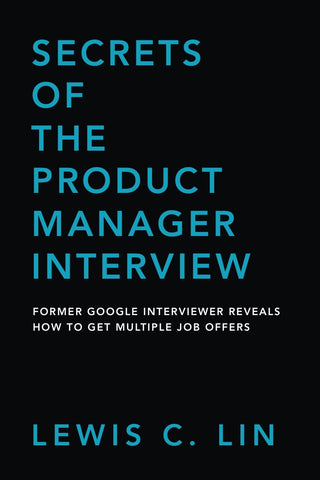 Secrets of the Product Manager Interview (First Edition)
---
FIRST EDITION NO LONGER AVAILABLE.
Have a upcoming product manager interview? Perhaps for Google, Facebook, Amazon, or Uber? 
If so, find out the secret to getting multiple job offers with the world's #1 author on product management interviews: Lewis C. Lin.
Secrets of the Product Manager Interview will share what to expect in your product management interviews and how to prepare. The author will also answer the most frequently asked questions about the product manager interview process.
Pages
101 pages
Publish Date
January 17, 2017
Refund Policy
Please confirm all purchases before you complete them as all sales are final. There are no refunds for digital content.
About the Author
Lewis is the best selling author of several interview preparation books, including Decode and Conquer: Answers to Product Management Interviews.
Serving clients since 2008, Lewis has helped clients around the world secure jobs at some of the most prestigious companies, including Google, Amazon, and Microsoft.  Lewis has been featured in international press including CNN, ABC, CBS, The New Yorker, and The Atlantic.
Lewis has over 13 years of high-tech experience. Most recently, he was the Director of Product Management at Microsoft. Prior to Microsoft, Lewis worked at Google, where he was responsible for launching new AdWords products.