---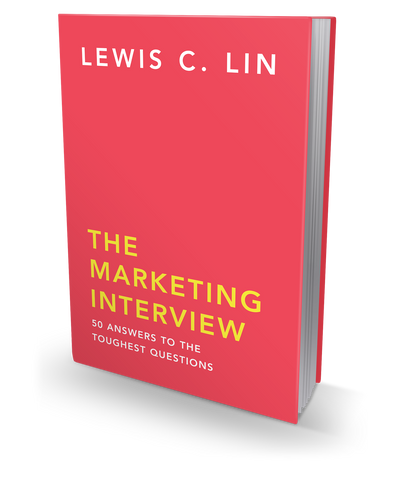 The Marketing Interview: 50 Answers to the Toughest Questions (Second Edition)
---
THIS IS THE E-BOOK VERSION, AVAILABLE FOR IMMEDIATE DOWNLOAD.
In The Marketing Interview, the author gives an industry insider's perspective on how to answer the most common and difficult marketing interview questions. The book will reveal:
Answers to marketing interview questions

Frameworks on how to tackle marketing case questions

Biggest mistakes marketing candidates make at the interview

Understand what interviewers are looking for, why they're looking for it, and how to deliver it
Questions and answers covered in the book include:
What promotional strategies would you use for a Honey Nut Cheerios campaign?
Develop a social good campaign for Teavana.
Should Hidden Valley increase the price of its ranch dressing?
Kit Kat sales declined year-over-year. Why is that, and what would you do to address it?
Tell me about a terrible product that's marketed well.
And more...
Pages
250 pages
Electronic Book Format
PDF (Viewable using the free Adobe PDF Reader)
Publish Date
May 10, 2018
Praise for The Marketing Interview
"I have interviewed countless candidates for marketing roles, and I wish more of them could attack problems this smartly. Follow the step-by-step guidance in this book, and you WILL set yourself apart from other candidates and succeed in your marketing interviews." - Scott Shrum, Former Brand Manager, S.C. Johnson & Son

"With the intense competition out there for top marketing jobs, The Marketing Interview is a practical yet thorough guide on how you can ace your interview and land the job of your dreams." - Jason Jennings, Former Senior Marketing Manager, General Mills

Refund Policy
Please confirm all purchases before you complete them as all sales are final. There are no refunds for digital content.
About the Author
Lewis is the founder of Impact Interview, an interview coaching firm.  Serving clients since 2008, Lewis has helped clients around the world secure jobs at some of the most prestigious companies, including Google, Amazon, and Microsoft.  Lewis has been featured in international press including CNN, ABC, CBS, The New Yorker, and The Atlantic.
Lewis has over 13 years of high-tech experience. Most recently, he was the Director of Product Management at Microsoft. Prior to Microsoft, Lewis worked at Google, where he was responsible for launching new AdWords products.
His first book, Decode and Conquer, is in the top 1% of all books sold on Amazon.com.
---
More from this collection